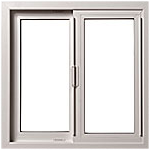 Milgard's horizontal sliding vinyl replacement window is popular for satisfying bedroom egress requirements, as an easy-opening window over kitchen counters and sinks, and for providing a contemporary look. Opens without using any exterior or interior space.
Specs:
Min Max2: Min 2'0" by 1'6" Max 6'0" by 6'0" Minimum Egress: 4'0" by 4'0" U-Value3: 0.35 (Milgard can tailor an energy package to meet energy tax credit requirements.)
---
Information
Live worry-free with Milgard's custom vinyl recipe. Our virtually maintenance-free vinyl frames won't rot, peel or require paint.
Improve efficiency with our 3D and 3D MAX energy packages custom tailored to your geographic location.
Reduce energy consumption with our standard SunCoat Low-E insulating glass or the SunCoatMAX option, which provides additional protection against fabric fading.
Get the best U-Value and Solar Heat Gain performance available on the Tuscany Series by adding the Triple Glazed option.
Includes Milgard's revolutionary, award-winning SmartTouch lock with the simple one-touch operation so easy to operate it received a commendation from the Arthritis Foundation.
Upgrade to a premium screen. Milgard's PureView window screens install and remove in a snap, plus provide a crisp and clear view with their smaller yarns and finer mesh.
Have custom made to your home's exact specifications at no extra charge or extended lead time.
Enjoy real peace of mind with our industry-leading Full Lifetime Warranty with Glass Breakage.
---
Interior Frame Color
White

Tan
---
Exterior Frame Color - Standard
White

Tan
---
Exterior Frame Color - Premium

Ivory

Light Grey
Taupe
Chocolate
---
Glass
Add privacy where window coverings are impractical or undesirable with our many styles of obscure glass. Glass can be tempered for extra safety or to meet code requirements.
Obscure Milgard's obscure door and window glass protects your privacy but allows abundant light to enter the room. Choose from a variety of colors and texture patterns for a translucent to semi-opaque effect.

P516

Narrow Reed

Cross Reed

Aquatex

#42 Clear

Glue Chip
Rain
Mattleux
---
Tinted
Tinted door and window glass provides additional shading from direct sunlight and warm conditions. Choose from a variety of tones and thicknesses.
SunCoat Low-E

Bronze

Gray
Evergreen

Azurite
---
Additional Glass Options For even higher performance, Milgard offers these door and window glass options. Tempered Tempered glass is extremely strong and often used for its safety characteristics. Not only is it extra strong, but when it breaks, it breaks into little pebble-like pieces without sharp edges. Tempered glass is ideal for reducing the likelihood of injury in the event of breakage in applications like patio doors, sidelites and bathroom enclosures for showers and tubs. Laminated Laminated glass is highly effective in reducing noise. It also eliminates 99.9% of ultraviolet rays, providing the highest degree of protection from the sun for your home furnishings. Concerned about excessive outdoor noise? Get the utmost protection against noise with our Sound Control Windows. Argon/Air Mix Optional argon gas, used between panes, is also available to further improve thermal performance.
Go Back